ICASA 2013 Reports
---
Track A Summaries
Pontiano Kaleebu
Lead Rapporteur
Sessions
Abstract driven sessions
Co-infections and Emerging Pathogens
Viral Diversity and Drug Resistance
Transmission and Mucosal Immune responses
Host and virus interaction in Transmission and disease
Rapid Diagnosis and Point of Care
Symposium
Advances in vaccines
Reservoirs and Cure
Co-infections
Co-infections: bacterial, malaria, ExtrapulmonaryTB
– Better diagnosis, management and tests plus importance of studies of immunological interactions
– Usefulness of Quantiferon TB Gold for diagnosis Extr Pul TB
– GeneXpert not yet widely available
Viral Diversity and Drug resistance
Group O less susceptible to new NNRTI drugs and integrase inhibitors
Notable resistance to the new NNRTI (Etravirine and Rilpivirine) in those resistant to 1st line NNRTIs- Mali
Caution on subtyping some CRFs are URF
What are best methodology for genotyping Sanger vs next generation sequencing
Potential new approaches to therapy
RNA Aptamer as possible entry inhibitory molecules
Mutagenesis in the Gag matrix and Capsid leading to failure of virus assembly
Oral beta Defensins- that inactivate HIV in oral epithelial cells
Developments in protective immune responses/ genetics
Exposed seronegatives, role of recall NK cell responses, Type I and II interferon responses to TLR7/8 and TLR 7
Long term non progressors, elite controllers and the association between HIV superinfection and disease progression
Genetic variation in Vit D receptor and disease progression
Rapid diagnosis and Point of Care
Development of rapid assays for specific DR mutations (Oligonucleatide Ligation assays), the multiplex based one detecting <5% minority populations
Development of assays to monitor adherence (cathepsin zymography)
Evaluation of CyFlow MiniPOC for CD4 enumeration
HIV Vaccines
Follow up on RV144 study that showed modest efficacy through enhancing the level and duration of the immune response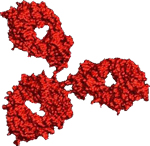 Broadly neutralizing antibodies
to effectively prevent infection by a broad range of the many HIV variants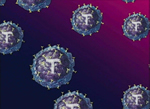 New antigen approaches to induce
T-cells to destroy HIV-infected cells
Replicating vectors to deliver vaccines in a manner that stimulates
strong and sustained immunity
Overview
Though few basic science abstracts, there was good science
Young investigators
TRACK B
CLINICAL SCIENCE, TREATMENT AND CARE
Mohammed Lamorde MRCP, PhD
Infectious Diseases Institute, Makerere University College of Health Sciences, Kampala
The consequence of failure of our antiretroviral and PMTCT programme is too ghastly to contemplate…
His Excellency F Mogae ICASA 2013
First-line ART in Africa
| | |
| --- | --- |
| PRESENTER | HIGHLIGHTS |
| Nwuba, CNigeria | Co-trimoxazole propophylaxis appeared to increase of retention of pre-ART patients with high CD4 counts |
| Sibanda, DZimbabwe | Nevirapine toxicity in line with manufacturer defined risk thresholds for CD4 counts |
| Speight, CMalawi | Treatment limiting toxicity for efavirenz was 2% |
| Mukonzo, JUganda | Pharmacokinetic -Pharmacogenetic model suggests lower dose of efavirenz for African patients |
| Adzavon, YSenegal | High prevalence of genotypic resistance  (20%) |
Detecting and Treating Virologic Failure
| | |
| --- | --- |
| PRESENTER | HIGHLIGHTS |
| Ouedrago, SBurkina Faso | Darunavir/Raltegravir regimen efficacious and well tolerated in small cohort with treatment failure |
| Bygrave, HZimbabwe and Malawi | Dried blood spots and pooled testing to scale up routine VL monitoring |
| Toni, TCote D'Ivoire | High prevalence of genotypic resistance among children on ART |
| Jed, SSouth Africa | Adherence to VL monitoring guidelines in SA |
| Chani, CNamibia | Adherence to VL monitoring guidelines in Namibia |
Children and Adolescents
| | |
| --- | --- |
| PRESENTER | HIGHLIGHTS |
| Idele, PUNICEF | Inequities  persist in  care and treatment for children in SSA |
| Costenaro, PUganda | Feasible implementation of isoniazid preventive therapy  for HIV-infected children |
| Kania DBurkina Faso | Excellent agreement between dried blood spots  and plasma for early diagnosis |
| Jesson JIeDEA West Africa | Malnutrition at ART initiation common (51%) and some children do not catch up after two years of ART |
| Brahmbatt, HUganda | Neurodevelopment impact of HIV and benefit of ART |
HIV and Tuberculosis
| | |
| --- | --- |
| PRESENTER | HIGHLIGHTS |
| Fall Niang , MSenegal | Xpert versus MGIT 960 for sensitivity to MTB |
| Sumitani, JSouth Africa | Suboptimal ART initiation rates among TB/HIV patients |
| Hausler, HSouth Africa | TB / HIV screening  within correctional facility |
| Enegala , JNigeria | Greater risk of TB/HIV patients  stopping care at facility |
| Mukonzo, JUganda | Model to describe sub-clinical liver function  changes |
HIV and Co-morbidities
| | |
| --- | --- |
| PRESENTER | HIGHLIGHTS |
| Mutisya, RKenya | Nutrition counseling versus food supplementation equally effective in improving nutritional status |
| Ymele, F,Cameroon | Post-op complications similar between HIV –  or HIV+ women with Caesarian Sections |
| Patassi, ATogo | 9.65% prevalence of Hepatitis B in a setting without routine screening or access to tenofovir |
| Kania, DBurkina Faso | Combination of RDT plus DBS is possible for testing for HIV, Hep B and Hep C |
Adherence and Retention in Care
| | |
| --- | --- |
| PRESENTER | HIGHLIGHTS |
| Gonzalez- Perez, JUganda | Approximately half of patients retained in care after 10 years. Lowest retention among those aged 15-19 years. |
| Grimsrud A, South Africa | No difference in risk of default with  4 month drug supplies versus 2 month drug supplies |
| Maharaj, TSouth Africa | Fast-track for stable patients reduces patient waiting time |
| Jobanputra, KSwaziland | Older age, lower viral load, higher CD4 count associated with resupression following enhanced adherence counseling |
Track D:
Social Science, human Rights and Political Science
34 Oral presentations and 241 Poster presentations
Track Chair: Dr. Emil Asamoah Odei Co-Chair: Prof. Relebohile Moletsane
Rapporteurs: Pierre Brouard, Sianne Abrahams, Stella Kyobula-Mukoza and Lucina Reddy
Challenges: Thematic Areas
Recommendations: Disability
Disability lens reflects chronicity of HIV
Policy implementation effective only with established financial structures
Sensitization of clinical staff
Access to health care; education; rehabilitation for disabilities
Recommendations: Fertility and HIV www.hartcapetown.co.za (Affordable and holistic approach for HIV +ve couples wanting to reproduce)
Guided by policy and best practice "It's not the HIV that's killing me… my mother in law will say where is the baby?": A qualitative study of couples facing HIV and infertility. (Cal Volks, 2012).
Reproductive health fertility specialist to consult on draft guidelines with HIV specialists on this population
Call is for more consistent policy and full funding (not partially subsided)
Because partial funding discriminates against the right of HIV+ couples to reproduce
Review of international guidelines (Mmeje)
Informing policy decisions and client care
Recommendations: Technology for Behaviour Change
Policy Regulations: Emphasising protection of respondents in digital media (recognising future implications) "How informed is informed consent?"
Cellphone technology and other mechanisms for treatment adherence and encouragement (V. Nembaware)
Links biomedical and psychosocial
"Umhlobo Wami" (V. Nembaware)
Recommendations: Rights and Violations PLHIV
UNAIDS toolkit: Defines risk, harm, defences. "Disclosure as a defence" (seen as informed consent to limit risk)
Sensitization (Maseko)
Judiciary and police need education in HIV litigation (Anonyuo)
Recommendations: HIV Prevention
Prevention strategies which interact with social and cultural dynamics
Short term:
education, communication and sensitization strategies at multiple level (individual, community and systems)
Medium term:
further research to inform policy
Long term:
embedded into policy and programming
Possible Areas of Inquiry
How do we remain reflective about the language of "Key Populations" to notexclude vulnerable individuals and groups that we may have lost sight of?
Considering the emerging focus of cash as an incentive, for behaviour change – is there a distinction between good and bad transactionality?
Fear of the loss or injury to manhood emerged as a significant barrier to VMMC programmes; how can social research help us understand the relationship between circumcision, masculinity and HIV prevention?
If the focus is on health of marginal groups (SW, MSM and drug users) whose legal situation is precarious, and there are limited efforts to decriminalise their activities, are we really addressing the primary drivers of their vulnerability?
Stigma is a structural driver of HIV – guidance is needed at a national level toovercome this. How can we formulate a national strategy in response to this?
Track E
Health Systems, Economics and Implementation Science
The track's aim was to provide new insights into the status of health systems and its capacity and challenges to expanding treatment and prevention in resource-limited settings.
Rapporteurs and Presentations
Track Chairs:
Dr. Ntounga
Professor Reid
Rapporteurs
Ms. Sianne Abrahams
Ms. Stella Kyobula – Mukoza
Mrs. Lucina Reddy
Presentations
Number of Oral presentations = 40
Number of posters = 173
Laboratories and Facilities
Monitoring of laboratories to ensure effective delivery of services (Lugada, 2013) and (Kerschberger, 2012)
SMLTA mentorship model applied in Zimbabwe (Simbi, 2013)
Dalmeida (2013) suggested the promotion and scale up of Open Polyvalent Platforms should be considered for resource limited settings
Cost Effective Measures – Recommendations
Haacker (2013) Analysis in 2010 indicates that one MMC results in about 0.2 HIV infections averted for males up to age of 20
Highlights the importance of targeting young males
Kripke (2012) Review of the KwaZulu – Natal DOH programme implementation
Scale up of VMMC was suggested as cost effective prevention response coupled with condom promotion.
Cost Effective Measures – Recommendations
Maselle (2013) Evaluation of Pharmacy Only Visits (POV) Programme in Uganda
Focus on enhancing POV to assist with task shifting
El-Sadr (2013) Analysis of routine data of patients enrolled in care
By assessing eligibility for initiation of ART, patients can be placed faster on treatment as well as initiation of healthier patients on ART
HIV/AIDS, Inclusivity & Change Unit:
Curriculum Integration of HIV/AIDS Student Image; Julian Gasson 'One Hundred Hollow Men'
LEADERSHIP SESSIONS
African Leadership in the Post -2015 Era
Leadership for change: Global Plan towards the elimination of the new HIV infections by 2015 and keeping mothers alive
National ownership and accountability
The end of AIDS. Reality or Myth?
Declarations, Commitments and Promises
Leadership for an Integrated and sustainable response to diseases/ill health
Embracing change for an effective response to HIV
African women Leadership for the HIV response-myth or reality?
Youth Leadership: crossing cultures
Religion, sexuality and HIV
African Union Roadmap
The End of AIDS -As the world defines a new agenda in the Post 2015 Era :-
What leadership does Africa need to exercise?
What goals do Africans need to get behind?
What strategic alliances need to be formed?
Glass half full
Zero new infections, Zero discrimination, Zero AIDS related Deaths
Dream
Overly Ambitious Goal
Now more than ever slowly but surely becoming a reality
Glass half Empty
Far from reaching the end of AIDS
More difficult situation than ever before
Need to address
The multiple social issues,
Strengthen health systems,
Sustainability,
Ensure adequate funding of the HIV response Hold authorities accountable.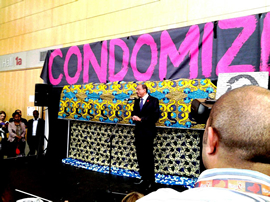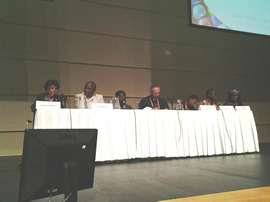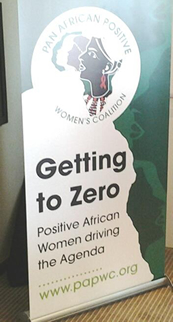 IF AIDS IS NOT A STAND ALONE
PRIORITY GOAL IN THE POST 2015
AGENDA THE END OF AIDS WILL STILL BE
A FAR CRY
WE ARE ALL IN THIS TOGETHER
THERE IS NO THEM ONLY US
SIYABONGA
Empty section. Edit page to add content here.