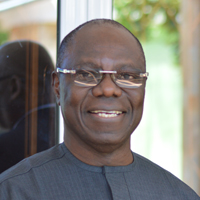 Prof. John Idoko
admin
President
Professor John Idoko trained in internal medicine, infectious diseases and immunology of infections and has been an HIV physician since 1995.
He was Principal Investigator of the Harvard University/AIDS Prevention Initiative Nigeria (APIN) Presidential Emergency Plan for AIDS Relief (PEPFAR0 program at the Jos University Teaching Hospital (JUTH), situated in Jos, the capital of Plateau State in the north-central region of Nigeria. The antiretroviral clinic (ART) at JUTH cares for about 12,000 patients with HIV, representing one of the largest clinics in Nigeria. The program in JUTH has a "Hub and Spoke" network of decentralized and integrated services delivering comprehensive HIV services TB, Malaria and sexual and reproductive health.
Professor Idoko was President Nigerian AIDS Research Network, Chairman Nigerian National Antiretroviral Committee and currently Director General, National Agency for the Control of AIDS (NACA). In addition, he was Vice-Chancellor of the University of Jos (1994-1998) and Special Consultant to the Petroleum Special Trust Fund (PTF). He is Co-Chair of the newly established West African Infectious Diseases Institute (WAIDI) and serves on several boards including the Governing Council of the International AIDS Society (IAS).
His research interests include clinical trials of antiretroviral drugs, adherence to ART, Tuberculosis, hepatitis co-infection, resistance to ART, social and behaviour issues in HIV and models for scaling out comprehensive HIV services. He has over 70 publications in peer reviewed journals and contributed to several books..